Eswatini woman leading the way on agri-tourism
By Nokukhanya Musi – Aimienoho
Mbabane
In a dusty rural community, straddled by the picturesque mountains of Eswatini, one woman is embracing agri-tourism as a vehicle for empowerment.
39-year-old Zanele Phiri is leading change in her native rural community to reposition her garden as an idyllic ecotourism destination.
Ideally situated on the northwestern side of the Kingdom of Eswatini and conveniently nestled between the Greater Kruger National Park and the wonders of Northern Zululand, such as St. Lucia, Kosi Bay and Hluhluwe is the small community of Nginamadvolo in Piggs Peak, a natural paradise of biodiversity with rich natural vegetation and small mammals.
The small community of Nginamadvolo is along with the rest of the world feeling a pinch of the impact of the Covid-19 pandemic which has exposed and worsened economic, societal and environmental challenges globally.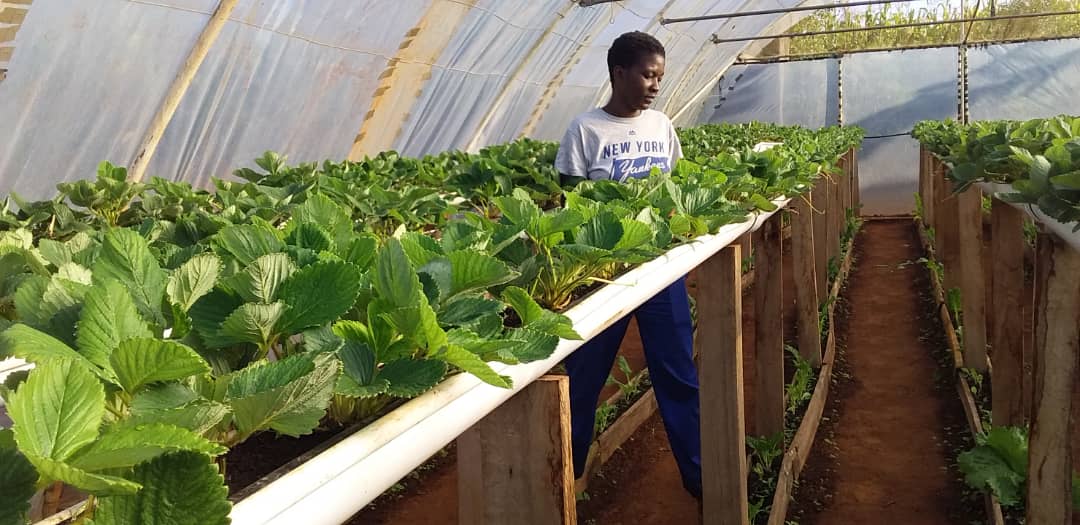 In the race to combat climate change, Phiri's agribusiness Makwandze Organica has devised environmentally innovative solutions to these economic, societal and environmental challenges that will go a long way in addressing the increasingly high rates of unemployment, and food security, sustainable economic growth, jobs and skills training.
The farmer says she was inspired by her supervisor Professor Ying at the International University of Japan (IUJ) who she says has a passion for contributing holistic solutions to problems in developing countries as a recovery effort from the COVID 19 pandemic.
Makwandze Organica which grows strawberries and organic vegetables using an elevated bed system under a tunnel structure is committed to implementing the project from spring 2022.
Led by Ms Phiri who holds an M.Sc. in Horticultural Sciences from the University of Stellenbosch in South Africa and recently attained her MBA from the International University of Japan, Makwandze Organica's flagship ecotourism project is strawberry picking and agricultural training and picnics.
Ms Phiri points out that Eswatini is a low-income country in Africa, and that the majority of the 58.6 percent of the population who are using land for farming purposes are still living in the rural areas (WFP, 2021).
She explains that in rural areas, governance is primarily under the Chieftaincy, a different system from that of the urban areas where the role of leadership falls under the mayor and that the tendency of the mayor in urban areas is to promote cooperatives of community projects.
She states that applying the comparative advantages of the location to promote its products is a new concept that can improve the locals in rural areas.
"In Eswatini rural communities, there is little innovation in terms of developing a brand for promoting agricultural products and events in the rural area. As a female leader, I would love to demonstrate that developing and promoting a local brand of strawberry can be linked to the heritage of our community which is the use of local timber in developing my production system and positioning my area as the strawberry ecotourism hub," she says.
It is for these reasons that she views her project as an opportunity to revitalise ecotourism in her community.
She notes that one of the biggest joys of being a part of this project is the satisfaction that will come from knowing that protecting the area's diversified scenic beauty and its unmatched natural features and making more people aware of its importance will help protect the environment for our children and the coming generations.
All this is in good timing as it coincides with the agenda of the African Green Stimulus Programme (AGSP) which is to deliver impactful scaled up interventions in support of key economic sectors hardest hit by the pandemic, such as ecotourism and the biodiversity economy.
The Strategy Coordinator at the Eswatini National Trust Commission (ENTC) Bhekithemba Thusi concurs that the pandemic resulted in the lack of financial resources and support for eco-tourism products as national resources were directed towards responding to the pandemic, resulting in reduced subventions for parastatals to be able to effectively enhance eco-tourism products in the country.
Malolotja Senior Park Warden Teddy Dlamini agrees with Thusi, adding that there was a massive decline in international tourists due to travel restrictions and lockdowns rendering the industry unable to sustain the operations of numerous facilities and products, as international tourists brought a major source of income and revenue that sustained the industry.
"The eco-tourism industry plays a pivotal part in contributing to the country's GDP. The COVID pandemic and its associated lockdowns resulted in job losses and limitations within the eco-tourism industry, this sector has no longer been an effective contributor to the country's GDP as it was before the pandemic," he said.
Speaking during the recent 5th United Nations Environment Assembly (UNEA) last month, the UNEP's Executive Director Inger Andersen emphasised the importance of coming to a global agreement on the definition of nature-based solutions.
She pointed out that it is only when countries and companies claim that their actions are supporting nature-based solutions that they can begin to assess whether this is accurate and what it entails and that this is especially true given the just-released report by the Intergovernmental Panel on Climate Change on the need to scale-up adaptation, for which nature-based solutions will be crucial.
"Three resolutions prioritise ecosystem restoration, biodiversity protection, resource efficiency, consumption and production patterns, climate mitigation and adaptation, job creation and poverty reduction," she said.
The AGSP advocates for the revitalisation of environmentally and socially responsible tourism that promotes the conservation of biodiversity and natural heritage.
The rejuvenation of ecotourism has been seen as a means to contribute significantly to the continent's recovery.
Dlamini reveals that the ENTC'S interventions and responses to mitigate the negative impacts of the COVID-19 pandemic on the ecotourism industry involved the introduction of adventure activities to complement the eco-tourism space and in particular to promote domestic tourism.
"Special offers were also introduced to provide locals with the opportunity to enjoy products at affordable prices that would cushion the financial blow that came with the pandemic. For example, Malolotja Nature reserve offered its famous canopy tour at a special rate of E500 per person during the grips of the pandemic as opposed to the normal rate of E750 per person. This saw an increase in locals coming to enjoy this unique experience during the pandemic," he said.
Insights learnt from the ENTC's various responses include a constant need to build partnerships and for industry players to work together to encourage people to travel to establishments, a need to refine and develop new products to keep relevant within this ever-changing and diverse industry as well as invest in promoting domestic tourism and avoid the heavy reliance on international tourists within the country, as this can help sustain the industry no matter what challenges may come.
"Swazis love to travel and enjoy a variety of experiences offered by the ENTC, thus there is a need to identify products and experiences that appeal to them and actively pursue these (especially products with low hanging fruits and low need for financial investment)," he said.
Limitations are an opportunity to think beyond the ordinary and apply innovative ways to integrate sustainable utilisation of biodiversity / natural resources with development, in this case, ecotourism.
"Other limitations were the lack of capital or investment to actively drive the identified new products and services that can enhance experiences within the eco-tourism industry in the country, an unwillingness to partner with other establishments due to negative perceptions and fears to change as well as the persistent conflicts among community members on the preferred use of their natural resources," Dlamini went on to say.
Over and above the national efforts, Phiri's farming enterprise has through a business-oriented approach identified a way to utilise the rich potential the area has in ecotourism — by earning revenue and protecting the environment at the same time.
The strawberry picking and picnics programme has the potential of becoming a model for community-led conservation through ecotourism and can also be replicated by other communities across Africa.
In an interview published by UNEP in 2020, United Nations Programme Manager and Coordinator Johannes Refisch, who oversees the Great Apes Survival Partnership explained the dilemma faced by ecotourism and how the industry might change to accommodate a post-COVID-19 reality.
According to Refisch, communities benefit through employment, business opportunities and social projects; and ecotourism also contributes significantly to national economies.
"Since then, most borders have been closed, and international travel has come to a stand-still. This has even affected areas without great apes, cutting off their source of income," he said.
Refisch further says that in a post-COVID-19 future, there is a need to find new ways of doing things.
Worth noting is that the Glasgow Declaration was launched as part of the United Nations Climate Change Conference (COP26) with an intent to urge and enable all travel and tourism stakeholders to sign and demonstrate, for the first time as a united sector, a shared voice and commitment in taking strong action to support the global commitment to halve greenhouse gas emissions by 2030 and achieve net-net-zero soon as possible before 2050.
The 27th session of the Conference of the Parties (COP 27) to the UNFCCC will take place in Egypt from November 7 to November 18, 2022.
Locally, Ms Phiri is taking strong action on her own and further sees her flagship strawberry picking/picnics initiative as an opportunity to boost ecotourism in her community by showcasing the resources of the locality's speciality such as timber and demonstrating how it can be used to deliver a water-saving and energy-saving agricultural system.
"We will also position strawberry as our speciality for the area. Strawberry picking is also beneficial for the well-being of an individual. Only 8 strawberries provide the daily required nutrients and strawberry picking is known to alleviate the symptoms of depression," she points out.
Also weighing in on Phiri's initiative, Thusi from the Trust Commission stated that the initiative has the potential of growing to become an ecotourism/adventure activity that could be promoted and encouraged for peace, tranquillity and romance.
Furthermore, she admits that it is too early to determine whether or not the community has been helpful especially because it is a woman leading this initiative.
"Although the project is at its initial stage, I foresee tremendous support coming from my local authorities. With the necessary funding and support, this initiative will be the pride of the community," she adds.
Drawn for comment, community member Vivi Dlamini said when he first heard of the project, he was so interested in the outcome since it's not something they are familiar with local and was of great interest knowing that a very infamous community like Nginamadvolo could be the first to come up with such initiative.
Dlamini foresees the project benefitting the community in terms of employment.
"We currently face high crime rates resulting from the high rate of unemployment. This project could help our community generate revenue and will also help in promoting recognition of our small community," he said.
Ms Phiri is optimistic that young emerging entrepreneurs can learn from innovative and progressive projects such as Makwandze Organica.
The Environmental Information Officer at the Eswatini Environment Authority (EEA) Belusile Mhlanga concedes that the strawberry picking/picnics project is a great initiative.
"This is a great initiative as it will allow tourists to experience direct contact and interaction with agriculture and natural resources. Increasing public interaction with farming can promote an understanding and appreciation for the working landscapes that help maintain or enhance natural resources," she said.
Mhlanga acknowledges that such initiatives have the potential to help preserve rural lifestyles and landscape and also offers the opportunity to provide "sustainable" or "green" tourism.
"Organic agriculture is a cultural evolution that finds its origins in an environmentalist culture it balances the needs of tourists with those of rural communities, offering real opportunities for economic and social development while mitigating undesirable impacts on the environment," she further said.
Mhlanga confirmed that through the Eswatini Environment Fund, the EEA is implementing environmental restoration activities such as donga rehabilitation, wetland rehabilitation and enhancement of community tourism sites such as the Mgogodla ecotourism facility in the Sibebe area and the Mangwenya water pan (In the Shewula area) which is home to about 26 bird's species and a potential site for bird watching the development of botanical gardens in ecotourism sites is another greening activity done by the organisation.
Speaking more about her eco-tourism project, Ms Phiri explains that the low-cost planting systems adopted by Makwandze Organica are suitable for conserving the environment by focusing on using limited space, recycling water and growing vegetables organically under greenhouse/ tunnels structures.
"Makwandze Organica uses a water-efficient planting system. It is essentially a two-tier system that allows planting on elevated beds as well as the bottom planting troughs. It relies on using locally available resources. We use organic compost from peat combined with animal waste from our small livestock. The system uses less space and is erected in a tunnel house," she elaborates.
Makwandze Organica also plans to use recycled gutters to make planting troughs to solve the barriers of water shortages or loss of entire crops due to flooding.
"Additionally, this system can be used as a solution for ecotourism promotion to demonstrate the use of small spaces and water-saving systems as a way of farming as well as the use of local resources and create a brand that will be a speciality of the area," she further states.
Indeed, it is time to join women like Ms Phiri to mitigate climate change through agriculture and boost food security while making a significant impact on biodiversity.
This article is part of African Women in Media (AWiM)/UNEP Africa Environment Journalism Programme
Do you want to publish this article? Kindly contact janet@africanwomeninmedia.com