Unlawful marriages: Women have the right to properties too
This would be Nyirahabimana's eightieth year of marriage if only she was stayed with her husband who chased her out of the house last year, after seven years of marriage and 2 children together.
At 18, Divine Nyirahabimana (Not her real name), left her parents' home in Ngororero and went to Muhanga to look for work.
In Muhanga, she met Paul Kimonyo (Not his real name), a motor cycle taxi operator and the two fell in love and started living together but never legalized their union.
Nyirahabimana was a fruit seller in Muhanga and both she and her husband contributed to the welfare of their household and also saved some money to secure their future together.
"We rented a small house which matched with the income we had at the time but resolved to build our own house," she says.
After constructing a 5 bedrooms' house and buying three plots of land, things went wrong between the couple.
'He started treating me badly and chased me out of the house after our second child. I was obliged to go home and waited for him to calm down".
During that time, her husband got another woman whom he took to Kigali and married legally and went back to Muhanga to live with her in the house he had together with Nyirahabimana.
"After seven years, I found myself on the streets with two children. He even refused to give me my clothes and burnt them. When I reported him to local officials, they decided that he should give me Rfw10,000 every month but he only did it 3 times and it wasn't the full amount. It has been two years now," Nyirahabimana says adding that her ex-husband acknowledges that she contributed to the properties but has refused to give her some.
Now Nyirahabimana returned to live with her parents in Ngororero, and she is struggling to raise her two children alone.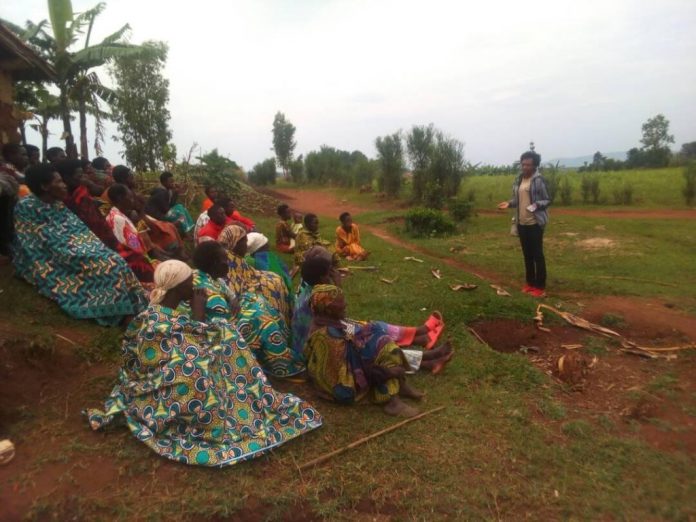 However, she is didn't give up, she is still trying to find a way to go to court and file her case, so that she may obtain what she deserves, she said.
"Now I don't have means to go to court but I'm saving little money from what I earn, to file my case to the court," she said.
Law provisions
Jean Paul Ibambe a Lawyer and The Program Manager at Legal Aid Forum told that if a man who married illegally his wife wants to quit her for another, they have to divide by two, all the properties they searched together.
"Of course it is not automatic like for married couples, they have to pass in courts. We have many cases like that and we win them. We encourage them to come to the Legal Aid Forum and we give them a free legal help," he said.
Venuste Kagabo, a senior lawyer said the difference between Properties' distribution for legally married couples and unlawful ones, is that the first one divides all properties according to the matrimonial regime they chose, while others look at what they got together.
"All these procedures have to strictly obey children's rights and they have to stay on the side where they are safe whether with their mother or their father, it all depends on which side the court found the safest to raise children," he added.
Article 39 of law n°59/2008 of 10/09/2008 on prevention and punishment of gender-based violence talks about Legalizing unlawful marriages and common assets distribution.
If a person who wants to be married legally was living with other husbands or wives, he shall first of all share the commonly owned belongings with those husbands or wives equally, read the article.
The Survey conducted in Rulindo District by Caritas Rwanda in 2019 on the status of Gender-Based Violence, showed that physical violence comes on top with 55%, followed by Property-based violence with 36,6% and sexual violence with 33,3%.
Men are more perpetrators than women, and many cases are not followed into justice, because most women fear to put their children under risk, says the survey.,.
Ministry of Gender and Family Promotion encourages Couples to legalize their unions to prevent any form of violence.
If not, they have to be aware of the laws which provide them rights and they have to sick for justice, advised the Minister Esperance Nyirasafari.
Marie Anne Dushimimana