Immanuel Vision School: With a little funding it has helped parents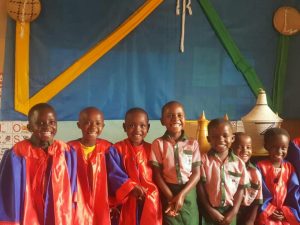 It's been about seven months, after the outbreak of COVID19 pandemic that shook the entire globe, was first heard in Rwanda in March 2020. This global threat has affected many sectors both locally and globally. In Rwanda, the sector of education is one among the many that were severely affected by this global health emergency. Seeking to know what parents think to be the effects of COVID 19 on the education of their little children, Integonews.com visited Immanuel Vision School/Rwanda EMS, a church based nursery school, located in southern province, Kamonyi district, Runda Sector.
Parents whose children attend this school, have openly shared their feelings with integonews.com, expressing how this school has been a huge support to the families in this area, in a variety of ways. Apart from this school being a safe place for children to spend some hours of the day, parents confirm that this school offers a good quality of education to the children.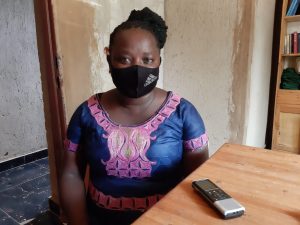 According Marie Louise Umuhoza, one of the parents says her 5 year old son who was studying in that school even when Covid 19 caused to school closure, had learnt a lot compared to when he had not started.
" There is no nearby school except one in Kamonyi and in Ruyenzi of which are also far, I normally find where to leave him as I go to other jobs and I have no worries " she said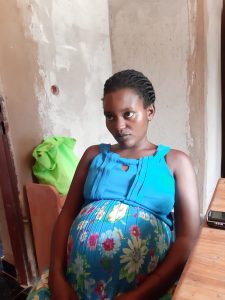 Niyonshuti Charlotte, who also has a child at the school, told us  before the outbreak of COVID 19, her kid used to study in Immanuel Vision School Rwanda/EMS, which was nearby and good and the child would come back early and taught him to grow to be God-fearing
"There moments when we go to eat or sleep and he prays, he sings gospel songs that were taught to him" She said,
Niyonshuti insists that a child at school is different from others, because he or she does not have bad habits.
Nyiragasigwa Uzamukunda Zawadi,
Has two Children, one of whom is in the school and even before the eldest daughter came to school, she did not allow her to work, clean the house, and cook until it was difficult for her until her husband had to come and help her.
"My child immediately who was initially shy became sharp, and this due to her attending the school, the really helped me," she notes.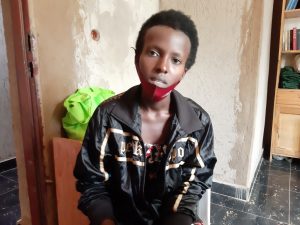 These parents also feel the same way as Mrs. Bernardine Nteziyaremye, who says she loves this school because private schools tend to provide higher quality education than the government ones.
She says his son who studies in Rwanda Immanuel did not understand many things at home, but now sees himself praying in English, playing in English and more
The parents' desire is for the school to be expanded, with more children to find a place to study and extend further their education
"if MINEDUC wanted to expand the school, they would have a primary school and a secondary school" noted the parents.
Caregivers believe that study and prayer make you a great person.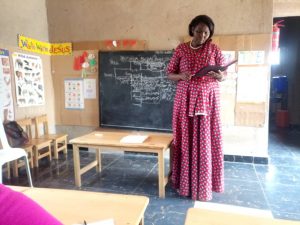 Mujawamaliya Bazilissa  a wife to the a pastor but also in charge of caring for these children, especially in teaching the gospel saying that God has called them to do is to raise children in the word of God at a young age.
"We didn't want to go to every home to teach children, but because we had were we prayed from, we decided to start a nursery school, so that we could bring children together, give them knowledge but also have the foundation of God's word." she said.
She emphasizes that a person has knowledge but beyond the word of God, that person is complete, and will benefit the country as a whole.
"Train a child the way he will go when he is young, and when he grows up he will not go astray," she says.
Madam Pastor says the word is written in the Bible, which is very helpful to her because a child who is taught the word of God has a positive effect on her in the future, as she develops healthy values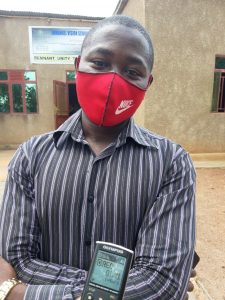 Gervais Nsengimana is also an educator, teaching mathematics and CRE, lessons learned after studying linguistics at the University, and even being trained in those languages in Korea.
He says he could have gone elsewhere to work, but teaching children to grow up to be God-fearing for him, is a calling and a job that pleases him more than anything else.
"I've been to the villages outside Kigali and I know a child who doesn't have the opportunity to be cared for, and I know that a child who has the opportunity to be cared for can be a powerful person," he said.
He says that the fact he is helping young children who could in future become powerful people gives him strength to continue doing that.
For him as a youth being able to clean children when urinate or defecate on themselves it just a calling
The school administration says the same thing.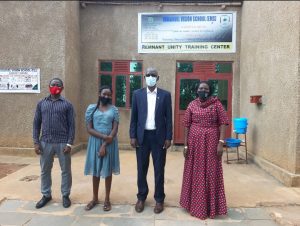 Pastor Yampayinshuti Cedesias, spokesperson for Immanuel Church in Rwanda and principal of Immanuel Vision School Rwanda / EMS, when we asked him how they thought of the project to start the school, as it was in the context of church work, they were called.
"The plan to start raising children in this school, It's a call, not a project, because it's an idea based on God's will." he said.
He says the church belongs to God, and it has become the law that one must do good works, so starting a school is one of the things they have to do, including developing their community by planting fruit trees that will be more than fourteen thousand (14,000) and forests
So starting a school, is to help families, because the word of God must start from families, people live well, have fruit trees, breathe fresh air and have intelligent children.
"When we invest in the education of the child, we are preparing for a better future for the country, the family and the church of God," he said.
Although it is a church, they still need help from the government
In response to the parents' request to expand the classrooms, the Immanuel Vision School Rwanda EMS administration also wants to start primary but will depend on the capacity they have.
But they are also asking the government to help them, especially since there is no water on the mountain, and raising young children requires a lot of cleanliness. So fetching water on the head is expensive and difficult.
This school is the Answer says the ES of Runda Sector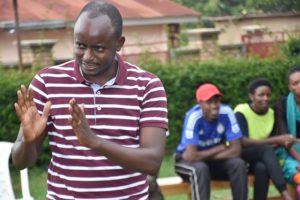 Mwizerwa Rafiki the Executive secretary of Runda Sector says they appreciate the school as it a partner in Education and they follow the programs to make sure they are in line with the government's directives on education.
"On the problem of Water, we have already dug trenches were we will put pipes to carry water to the school and the village at large, for the road it's there and when monthly community work (Umuganda) begins the road will be worked on," he said.
Ange Adeodata M. Assoumpta
Sangiza abandi iyi nkuru................