Rwanda's traditionally marginalised batwa people threaten to return to forest as covid-19 hits them hardest
BY ALEX NGARAMBE

It is a chilly Sunday morning in kinigi sector musanze district in the northern province of Rwanda. Kinigi sector is commonly known for being home to the world's famous mountain gorillas. However, it is also home to Rwanda's traditionally marginalised batwa people or east and central africa's pygmies.
Gorilla guardians village, is a centre that was established by the government of Rwanda in order to equip the indigenous people with technical skills for them to learn how to earn a living away from the forests.
The village which is approximately 100KM from the capital of Kigali is beaming with life. As one enters through the gates, they are treated to traditional dance, drums and folksongs since it is arguably considered that the indigenous people are the best at Rwanda's traditional dance.

The batwa people are traditionally forest hunters and fruit gatherers who previously lived in forests and in effort to conserve environment, the government decided to push them out of the forests and resettled them in communities but majority of them do not have land to farm thus lacking meaningful economic activities.
However, with covid-19 hitting Rwanda's economy due to several lockdowns as well as partial lockdowns, the indigenous people have been hit hardest with no more menial jobs to do and no tourists visiting in order to earn money and they are not selling their craft works neither are they acting as tour guides activities that used to earn them money to support their families before the outbreak of covid-19.
Generally, it has been a tough call for people to abide by the ongoing strict government rules and regulations in order to curb the spread of covid-19. For the batwa however, it's been extremely hard for them to survive without savings or jobs.

In an effort to feed their families, many have been arrested while others have lost their lives as they tried to return to the forests in order to get game meat and firewood to sell.
With this economic threat, Rwanda's historically marginalized Batwa people are being forced to return to forests their previous habitats to look for survival means as the effects of lockdown as a result of covid-19 pandemic hits them hardest.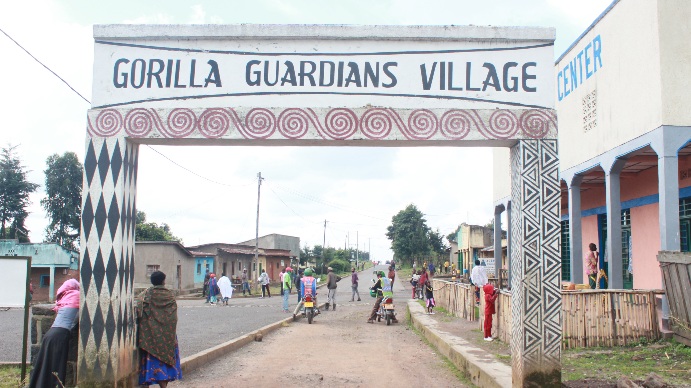 Now with the covid-19 pandemic forcing them to stay at home without any casual work in people's farms, and their pottery works not getting clients since they are considered a luxury during this economic hard times, they have asked government to provide financial support as well as food to feed their families but this support is yet to come.
post-genocide laws in Rwanda prohibits the collection and dissemination of data disaggregated by ethnicity rather the government has promoted the idea of one large tribe of "Rwandanness" so, the exact number of batwa people cannot be calculated but rough estimates put them between 25,000-30,000.
Born in the forest, his father killed by a wild animal.

For Jean Damscene Rwuburiza, a 35 five year old former hunter, who had never lived anywhere other than in the forest just like his ancestors had done is one of the many who have been resettled in communities.

Although he confesses to living a better life than he had in the forest, he is saying that life has drastically changed for the worse during covid-19 period a reason that could force many to return to their former habitat.

Rwaburiza says that he started earning money after returning from the forests since he was trained in making handmade artwork that he would sell to tourists as well as performing for tourists but they have since dwindled.
"I took a decision get out of the forest in 2000 after my father was killed by a wild animal while hunting. We took to dancing and art work for tourists especially those from the west. We made a lot of money but Covid-19 has halted everything.

Rwaburiza used to earn approximately USD90$ monthly before the pandemic. Money that he says was enough to feed his family and take his children to school. But now that he is not earning any money, he finds it difficult to fend for his family.

"Some people tempt to return to poaching and cutting trees because of poverty during this pandemic. But we have formed patrol units working with the army and police to stop them and on some occasions, we have arrested them," added Rwaburiza.

With the government of Rwanda now turning many of these forests into national parks, where collecting plants, cutting wood or hunting animals is illegal. The Batwa are finding themselves on the wrong side of law with patrolling rangers, sometimes with deadly consequences.
Epimaque Kanyanziza, former head of the Batwa organization, WOPU now a member of parliament in lower chamber of deputies says some women have lost their lives as they returned to forests to look for survival means to feed their families.
Due to the economic hardship they are facing, many have also been involved in cross order smuggling with the neighboring Uganda an illegal activity that has landed them in jail.
This has been often in the northern district of Burera
"Women have returned to forests to cut firewood to sell and we have cases where they were found in the forest and the park rangers ran after them while being beaten and one carrying her baby on the back falling down in the process and her child was injured and died later as a result," said Epimaque. Women bare heaviest brunt.

Traditionally, women would mainly work hard to fend for their families by doing part-time jobs like tilling land for the rich while their husbands would be away in the forests hunting and gathering fruits. However, with the outbreak of the pandemic, there are no more jobs to do.
After returning from the forests, many women acquired skills in basket weaving, tailoring and other hand-made art pieces that they would sell to support their families.

At gorilla guardians village women make art pieces that highlight Rwanda's history and cultural values and showcase it to the rest of the world.

Umutesi wase Marrie Solange, whose parents were also poachers, she has perfected the art of weaving selling her products to art shops and galleries in Kigali as well as to visiting tourists.
"As a woman, I never went poaching wild animals in the forests although my parents did. Here at the camp we do exhibit Rwandan culture as it was in the past and compared it to what it is today as it has evolved," she said.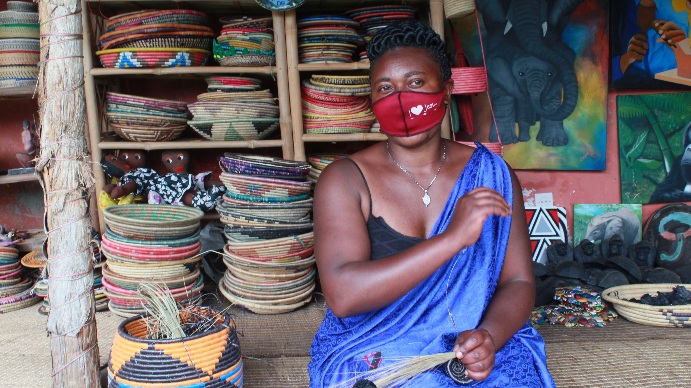 With her basket weaving, Umutesi used to earn approximately $60 per month which was somewhat enough for her family but with the outbreak of covid-19, she can go two months without selling a single product which has affected her family.

"You can't go hungry for a week or two that's the reason some of our colleagues will stealthily escape and go back to the forests to hunt wild animals for meat and sell some to get money. So this is possible that people are returning to poach and cut trees for firewood," Umutesi added.

When it comes to justice during the pandemic as well as measures put in place to curb the spread of Covid-19, authorities in the Northern Province where the problem of poaching is rampant during the pandemic, say that they have treated all the people the same way irrespective of all social classes.

"Everyone in this region who has gone against the laws to curb the spread of the virus including going back to forests irrespective of any differences in background has been arrested and justice dispensed equally and timely. We have not victimized anyone," said Jennine Uwumuremyi, the mayor of musanze district.

For so many years, the batwa that lived in community settings with other people have been discriminated against and many others lived in forests. For that, very few have had any inspiration to attain formal education.

Jean Bosco Uwimana, a graduate from University of Rwanda is now a social worker with communities of former poachers organising them to improve the livelihoods.
But with the awareness and government effort to integrate them in communities, plus universal primary and secondary education, many are now going to school and acquiring university education returning to improve the lives in communities.

Uwimana says that before covid-19, the communities he works with would receive over 50 tourists a month but with the pandemic, they are not receiving any. He calls upon people to remain calm amidst economic challenges they face.
Sangiza abandi iyi nkuru................