COVID-19: Hotel sector employees appeal for justice after being dismissed without terminal benefits
By ELIAS HAKIZIMANA
As many other business sectors, the hospitality industry was disrupted by Covid-19 pandemic and some of the employees in this business lost jobs unexpectedly as the industry laid off staff as a result huge losses by sector players.
The hospitality industry in Rwanda was on an upward trajectory before the pandemic struck the economy and this was occasioned by the booming tourism industry in Rwanda.
Tourism has been the leading foreign exchange earner for the better part of the last decade but with COVID-19, it has seen a shrunk with less visitors coming in. This had a spill over effect for the hospitality industry and it was forced to lay off staff many without their terminal benefits.
With many former employees in the hospitality industry losing their jobs without their mandatory terminal benefits almost a year down the road, justice is yet to be served as their former employers are not settling their obligation.
Across section of the survey show that Kalisimbi hotel in Kigali and diplomat are among the industry players that have terminated staff contracts without paying them terminal benefits.
Médard Musabe, 47, a former karisimbi employee is one of the victims who claims about Rwf700,000 of unpaid terminal benefits. He served the hotel as Laundry supervisor since 2014 and got the dismissal letter in August last year under the weight COVID-19.
"I was illegally dismissed and not given my terminal benefits as stated by the laws, we all know that COVID-19 is around but this could not be the reason to break the laws," said Musabe.
While some workers were dismissed, few stayed working because the hotel had a deal to supply food to the Bank of Kigali.
However, the management of karisimbi hotel could not speak about this issue. They could neither pick calls nor reply our messages regarding this subject.
According to Jean Christophe Cyubahiro, Secretary General of the trade union of workers in the hospitality industry that brings together hotels, bars and restaurants (SYNHOREB) said that they tried to follow up on the case but there is no response yet.
"We took the case to the Ministry of Public Service and Labour (MIFOTRA), to the Ombudsman and to the labour inspector. The case is still at the inspection of labour and yet to be handled." Cyubahoiro told Intego Media Group.
"After receiving the complaints from workers, we wrote a letter to their employer requesting for talks with workers, we agreed that there will be another meeting with workers to agree on paying them in instalments but this was not respected. He added.
Article 21 of the law No.66 of 30/08/2018 governing the labour in Rwanda states that in case of suspension of employment contract due to economic or technical reasons, an employee cannot be laid off one or more times for a period longer than ninety (90) days during the same period of one (1) year
Another affected employees in the hotel industry used to work at hotel diplomat in gishushu and they are facing the same plight. One of the workers at Kigali Diplomat Hotel who preferred anonymity with other workers said that they are still uncertain about the future since the job was their sole source of income.
"I have been working at the hotel for over five years. We were laid off in March last year and up to now; I have not been reinstated back to work. We took our complaints to Gasabo labour inspector. The inspector told us to first write to our employer which we did so that we get our benefits as laid off workers. But the employer responded that we might return to work when businesses have normalized. We have learnt that some resumed work but I and others are still in a dilemma" She said.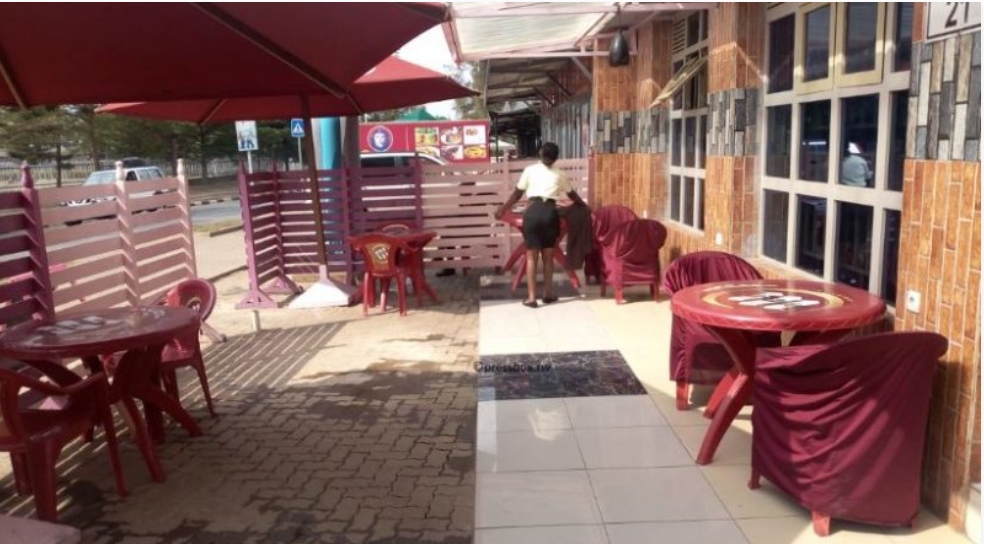 Recent findings of a survey conducted by the Ministry of Public Service and Labour revealed that 2,450 of 4,150 institutions that were contacted between March and April 2020 continued operating since the outbreak of the pandemic. It revealed that 1,700 establishments temporarily suspended operations.
The same survey showed that 54,609 out of 94,509 total employees among these establishments remained on a full salary, 1,143 saw their salaries slashed while 38,754 lost their full salary.
In August 2020, the National Institute of Statistics of Rwanda (NISR) report revealed that about 1.4 million people had lost their jobs while the country was lockdown. The institute, however, confirmed that women are the most vulnerable compared to men. This was part of a survey conducted in May 2020, aimed at assessing the current state of affairs in Rwanda.
The report indicated that unemployment in the country increased almost two-fold within a period of three months between February and May 2020.